2016 GMC Terrain Walk Around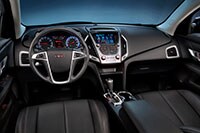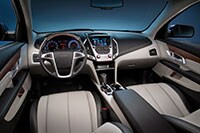 After six years the Terrain finally gets a makeover for 2016, but if you didn't like its square edges before, you won't like them now. However if you liked them before, you might like them more now. The Terrain still has a military look, it's still macho and distinctive, although now it's more modern.
There aren't many curves or bends in the sheetmetal, except maybe for the new dome on the hood and the C-shaped highlights at the corners of the front and rear fascia. The overall theme is bold and upright lines. LED running lights in the front bumper on the uptrim models are an improvement to our national landscape, compared to those bright DRLs in the headlamps that we wish would all go away.
Interior
The Terrain is a tidy five-seat package with good space inside. Versatility happens when the rear seat slides fore and aft by 8 inches, giving freedom to the front seats and cargo space in back, as well. The seatbacks fold to add space, but they don't fold all the way, and the cargo floor is high. Maxxed out, the Terrain can carry 64 cubic feet of cargo.
Large vertical vents are the centerpiece of the interior design. It's fine.
There's a big deep glovebox, a phone-sized shelf under the climate controls, and a big deep bin under the wide center console armrest that could hold a laptop. The interior design is tasteful and contemporary (especially the Denali), with low-gloss metallic trim. But some of the trim is disappointing, hard hollow plastic. There's a plastic hood over the touchscreen that doesn't help the touch much.
Can't complain about comfort in a Terrain, not even with the standard fabric seats. The cabin is roomy. There's a lot of head room, knee room and leg room. The bucket seats are wide and very comfortable with mild bolstering, and the rear bench has adequate support. However visibility out the rear is hampered by immovable headrests.
V6 models are silent inside, but four-cylinder versions hear the wind and the gears, the whoosh from the outside and the whirs and ticks in the drivetrain. Actually that ticking sound is coming from the direct fuel injection. The four-cylinder models have a noise-cancellation system embedded in the audio system, also with a few dedicated speakers.
The available IntelliLink connects certain phones to the audio system to get Bluetooth and sources like Pandora. The Terrain uses a 4G LTE data kit that enables your car to create its own private wireless network.