2016 GMC Yukon Driving Impressions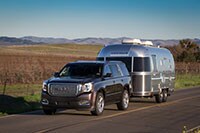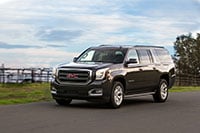 The Yukon is as easy and pleasant to drive as a car, as long as you pay attention to the corners that are way out there. Despite its size, the Yukon turns tight, better than many sedans, so there's no reason to be daunted by malls, at least not with the short-wheelbase versions. The XLs are less wieldy when pulling into a parking space.
The handling is secure and stable, with electric rack-and-pinion steering. The power assist is consistent during slow-speed maneuvering.
The ride is more comfortable with the standard 18-inch wheels than with the optional 20-inch wheels, partly because the bigger wheels use tires that have less of a sidewall height to absorb bumps. The available Magnetic Ride Control feels like magic to us, and makes all the problems go away. The shock absorbers continuously adjust in milliseconds to the road surface. On washboard surfaces the system is a blessing.
The 5.3-liter V8 delivers plenty of smooth power, the 6.2-liter even more so. Both develop peak horsepower at more than 4000 rpm, and they cruise at less than half that speed even at freeway speed. To get a downshift for instant acceleration, you hammer the throttle.
The 6-speed automatic does a good job of selecting gears. Its manual mode rev-matches the downshifts, and that's cool, and welcomed. The mode is managed by a switch on the column shift lever.
The Denali's 8-speed automatic has quicker and smoother shifts with smaller surges because the engine speed doesn't change as much, that's one of the reasons for more transmission speeds. The added gears also allow easier engine braking on long grades.
Towing is the best reason for buying a GMC Yukon. Even if you don't use your Yukon for towing, you might want the towing package because the way it programs the transmission is sharper around town. Same with the optional brake controller for trailers with electric brakes: it's needed if you tow, but even if you don't, it helps the resale value.