2016 GMC Yukon Walk Around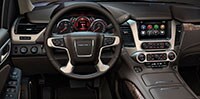 This latest-generation Yukon abandoned the boring slab sides of the pre-2015 models for square corners and a masculine presence. Edges, angles, and character lines on its sheetmetal give it a sharp and tailored look. Aerodynamics played a strong role in its design.
As with the Chevrolet Sierra pickup upon which it is based, the doors are triple-sealed, set into the body.
The Denali has its own distinctive grille, and high-intensity discharge headlamps. Other models have projector-beam headlamps.
Interior
The GMC Yukon feels more like a sedan than a truck inside. Way bigger, of course, especially the center stack with its large dials. It's taken over by the IntelliLink infotainment screen, with its big icons for various functions. The center console is big and deep enough for a tablet or notebook computer. So on second thought, the Yukon feels more like a modern semi-truck than a sedan, inside, and outside, with available retractable steps to climb up to the tall cabin.
But then you feel the cabin's soft-touch materials. And the Denali, downright luxurious, with its ambient lighting, Bose surround sound audio system, and Blu-Ray entertainment in the rear seat.
The second and third rows fold flat, with available power to create vast cargo space with one touch of the finger. There's plentiful legroom in the second row, and even the third row of the XL, although headroom is still tight back there. If it's the 116-inch wheelbase model, don't expect decent legroom in the third row but it still works for occasional use, so if that's all you need for passengers, the shorter wheelbase would probably be a better choice.
The Yukon doesn't sound like a truck inside, either. It's remarkably quiet. Those triple-sealed doors silence most of the road noise, and windshield and front window glass is treated to cancel noise. Most of the sound comes from the exhaust pipe, and it isn't intrusive, it only makes it evident how well the engine compartment is insulated.
The forward visibility is quite good, thanks to fairly slim windshield pillars and angular bodywork on the hood and fenders. The side pillars are substantial, blocking the tapered rear flanks in the rearview mirror. The standard sideview mirrors aren't wide enough to see what you're towing if it's tall and wide. Fortunately a rearview camera and proximity sensors front and rear are standard.
The optional head-up display projects speed, rpm, turn signals, warnings, navigation instructions on the windshield ahead of the driver, but, like all of them in our experience, it's not readable on sunny days with sunglasses.