2016 Honda CR-V Driving Impressions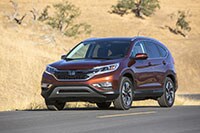 The Honda CR-V provides reassuring, predictable handling, even if it doesn't deliver an engaging road experience.
The belt and pulley-operated continuously variable transmission and four-cylinder engine yield sluggish response to the gas pedal. When the CR-V is filled with passengers, acceleration is even slower. Power delivery is smooth, however.
Electric power steering isn't as well-weighted as some. On certain roads, many small adjustments might be needed to remain on course. A CR-V rides quietly, helped in part by improved door sealing.
Real Time all-wheel-drive is helpful on snow-covered, slippery roads.