2016 Honda CR-V Walk Around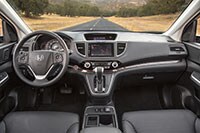 Some call the CR-V handsome; others brand it innocuous. To some, Honda's compact looks bulky or bulbous, especially when viewing its tapered rear end. Whatever your opinion, the basic profile hasn't changed since the 2012 redesign, and the CR-V is still boxy, despite its curves.
For 2015, a new chrome-accented grille appeared, helping to tie the CR-V more closely to the subcompact Fit as well as the latest Civic sedan and the new, smaller HR-V crossover. At least, Honda designers have avoided introducing any edgy touches that might interfere with the CR-V's functionality. The efficient design ensures useful space for both passengers and cargo.
Interior
Not only is the CR-V exceptionally roomy, its cabin is fitted with better-quality plastic materials than in the past. All but the base LX model get a seven-inch touchscreen for the audio system.
Except when pushing hard on the gas, the cabin is quiet. Soft-touch materials cover dashboard surfaces and touch points. Less appealing are the 3-D gauge faces under a glass cover, which look cheap. The shift lever protrudes from the lower center of the dashboard.
The CR-V is among the most useful compact crossovers, due to the combination of a voluminous interior and a smart-folding back seat. That seat folds and flips down with a single pull, winding up in the footwell behind the front seat. It's one of the CR-V's best features.
With rear seatbacks up, cargo space totals 37.2 cubic feet; folded down, 61.4 cubic feet. The load floor is the lowest in the compact class, for easy loading.
Passengers sit somewhat high. Front occupants get soft, comfortable seats, though a bit more side bolstering would be welcome. Two adults fit in back, with ample head space and legroom.
Rearward visibility issues make the rearview camera essential. Thick pillars and a high rear window impede over-the-shoulder views, though slim windshield pillars permit good forward vision. Rear-seat headrests can fold down for a broader view in the mirror.