2016 Honda Civic Coupe Introduction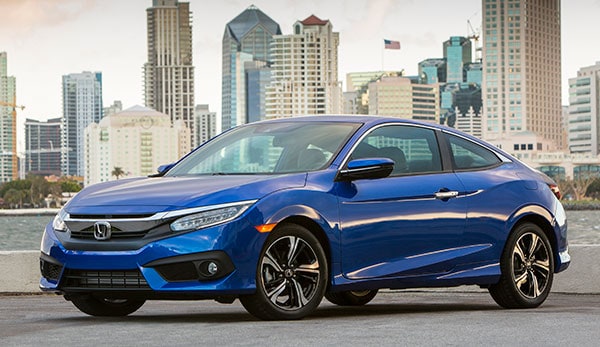 Just reaching showrooms, the new Honda Civic Coupe is the second chapter of a Civic renaissance that will embrace the most comprehensive lineup in the 43-year history of this Honda icon, with a five-door hatchback, a hybrid, and two performance versions, high (Si) and higher (R), still to come.
It will be a lineup that upstages every other make in the compact class, at least at the affordable end of the sprectrum. But the first question to consider in contemplating the Civic Coupe is: Why would I prefer a two-door to the greater utility of a sedan?
Most car buyers opt for four doors, which is why there aren't very many compact coupes to choose from; three, in fact, unless you count the Volkswagen Beetle, which marches to its own beat.
But for some, four doors don't project the right message. A sedan may be useful, but it's not quite cool. For those who prioritize style and image above all, the new Civic coupe is loaded with both.
The sedan is certainly no wallflower, and represents a welcome departure from Honda's usual caution with four-door designs. But the coupe's styling is a little edgier, with more creases in its skin, a slightly wider stance, a tightly wrapped exterior treatment that looks more athletic.
It also embodies tidier dimensions.
The coupe shares the sedan's engine choices: a 158-horsepower four-cylinder, available only in the basic L and LX models, and a 174-hp turbocharged 1.5-liter four. Both engines are new, and the turbo is a first for Hondas sold in the U.S. We will undoubtedly see other turbocharged engines as the Civic family continues to expand.
The base engine offers a choice between a 6-speed manual transmission (standard) and a continuously variable automatic (CVT). Turbo engines are allied with the CVT. Honda has done a lot of development work with the CVT, eliminating most of its undesirable slipping-clutch sensation. It will simulate traditional automatic transmission upshifts at full throttle, and is particularly effective in Sport mode.
Those engine-transmission combos will be in force through the 2016 model year; Honda plans to make a manual transmission available with the turbo later this year, with all models: coupes, sedans, and hatchbacks.
Like most new cars, the Civic's list of standard and available safety features has expanded compared to the previous generation, and includes adaptive cruise control, forward collision alert with autonomous emergency braking, and lane departure warning with lane assist. That last, lane departure and lane assist, is particularly annoying. More on that later.