2016 Honda Civic Driving Impressions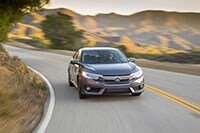 Weighing less than 3000 pounds, the Honda Civic with 1.5-liter turbo engine is quite sprightly. It's a small turbo with an electrically driven wastegate. It sounds sweet at full throttle, though there is some turbo lag.
It comes with a continuously variable transmission, which works smoothly and quietly but isn't quick or exciting. There's an Econ mode that kills power to gain fuel mileage. It responds a bit better in Sport mode.
Because the steering column is thicker (for crash worthiness), the Civic gets a new sophisticated steering system, a dual-pinion, variable-ratio setup like on the Buick Verano. There's a motor in the steering rack that provides gradual and consistent steering boost. The brakes are firm and fast to respond, with a short pedal stroke.
Ride and handling is where the Civic excels. It's precise, composed, and beautifully compliant, more mature than the old Civic. The suspension uses struts in the front with hydraulic bushings, and multi-links in the rear with a rigid subframe, with hydraulic bushings on EX-T models and above, as well as 17-inch wheels and tires. Same with the turbocharged Civics. The car doesn't dance over bumps, it micromanages them.
The Civic LX and EX ride on pedestrian 215/55HR16 tires that run out of grip and ability to cushion the ride on bad pavement, but still the ride's not bad. Handling is predictable even when grip is not, as we observed on wet roads covered with leaves.
Overall, the Civic performs better than it has for a decade.