2016 Honda Civic Introduction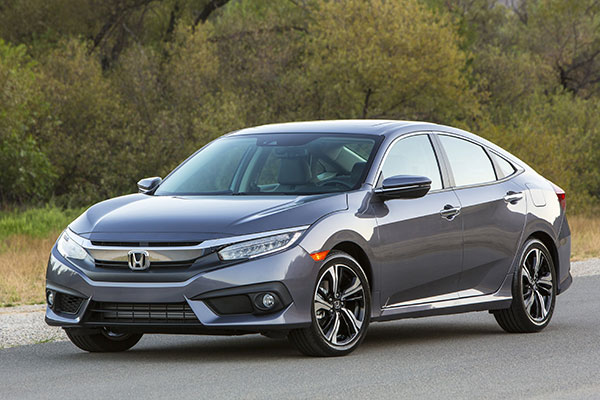 The all-new 2016 Honda Civic represents a comeback, having been driven into the ditch of dullness previously, with cheap interiors, boring design, and sappy performance. The new Civic is larger, nicer, more sophisticated. The Touring model feels like a premium car disguised as an economy car.
This new, 10th-generation 2016 Civic is nearly three inches longer on a one-inch longer wheelbase, with a front track and overall width that's two inches wider. Pushing the limits of the compact class, the new Civic is nearly the same size as the midsize Chrysler 200.
Inside and out, sitting and underway, it feels like a cut above a compact sedan, more like a small midsize. It is arguably the new class leader.
The 2016 Civic presents a new chassis and body, new engines, and big safety technology. For 2016, Civic only comes as a sedan. However, a coupe is on the way, and a hatchback, two Si editions, and a Type-R are not far behind.
The new Civic sedan drives very nicely, with a smooth ride and a general feeling of refinement. It isn't sporty, but it handles well and the brakes are smooth, easy to modulate and effective. It all adds up to a smooth, calm driving experience.
The standard 2.0-liter four-cylinder engine making 158 horsepower, about the same as a Mazda3, doesn't offer any thrills during acceleration. It comes with either a 6-speed manual transmission on LX models, or a continuously variable transmission (CVT) that is not new, and doesn't have paddle shifters.
The manual is EPA-rated at 31 mpg Combined, while the CVT rates 35 mpg. You'll get the same mileage and have more fun with the quicker and more responsive 1.5-liter turbocharged engine making 174 horsepower. It has a better CVT, as well.