2016 Honda Civic Walk Around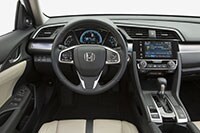 The striking fastback profile of the 2016 Civic announces a change in its image. It's one of the sleekest cars on the road now. The sheetmetal might be exciting to a fault. There are creases and slits and intakes. It hides its size and edges by being low and wide, with flared wheels and a wedged tail. The taillamps surely came off an Acura, they have that look. At the nose there's an unfortunate thick Acura-copied band of chrome between the headlamps.
Interior
The Civic cabin is tame and organized, a horizontal dash with a single screen, BMW-like in its flow. All but the Touring model use clean, crisp analog gauges. The Touring model gets a digital display on an LCD screen with a 270-degree tachometer.
The dash is low and the front seat raises, so forward visibility is excellent. There's a lot of room inside, enough for a six-footer in back with an inch of kneeroom to spare. There are many clever storage spots, and a big 15-cubic-foot trunk.