2016 Honda Fit Driving Impressions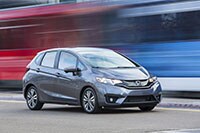 The latest 1.5-liter engine is direct injected, and makes 130 horsepower compared to 117 before, with 114 pound-feet of torque vs 106. It saves weight in the crankshaft and intake manifold.
The manual transmission gains a sixth gear; it's more fun and more work than the CVT. The desirable 6-speed gearbox is standard equipment but less common than the CVT.
Acceleration is smooth and good at mid-range, when you're on the freeway going 60 and want to go 70, but when you floor it at slower speeds, the CVT struggles to find the torque and get the car going. The engine's peak torque is way up there at 4600 rpm. The engine is also loud in the cabin at those hard-throttle low-speed times, heard emanating from the firewall area.
There's a tremendous amount of tire noise in the cabin, on grainy freeway pavement. So much you can't have a conversation. The suspension is too stiff on freeway bumps. Despite its 35 miles per gallon at 75 mph, and its room for bags and gear, we worry about the Fit EX-L's road-trip worthiness, with its hard seats, stiff suspension, cabin noise and frustrating radio tuning.
But the main thing is, when you think about it, we're talking about a 1.5-liter engine that can fly in the fast lane without working too hard.
Shifting the 6-speed manual transmission is short and tight, smooth and precise; and the clutch release is effortless. When most cars go from a 5-speed to 6-speed transmission, usually it's just a sixth gear added on top, another overdrive for fuel mileage. But the Fit's new sixth gear has about the same ratio as the old fifth gear, meaning that the six gears are spaced closer. The engine likes that.
The CVT has seven steps, or speeds, actuated by paddles. When you use them full time in Sport mode (set at the floor lever), it can be great, almost like a manual transmission with the clutch. But if you leave it in Drive mode, you're well aware you have a droning CVT. One time we were droning in Drive uphill at 55 mph, and we flicked the lever to downshift, and the car came alive with acceleration. Totally transformed.
The redesigned Fit doesn't handle with the precision of the old one. There's now electric power steering, and the front suspension was totally redone; it's less quick and sharp, as the turning circle grows from 34.4 to 35.1 feet. The ride is probably better than before, even though we just said it was too stiff on rough freeways. The longer wheelbase helps.