2016 Honda Fit Walk Around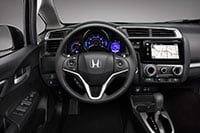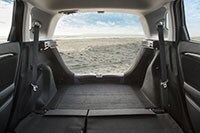 The Honda Fit has gone mainstream with styling and tries too hard to be edgy. It still looks cute in red, but silver makes the Fit look like a corrugated tin roof in the sun. It doesn't draw eyes, it makes people shield them. The previous grille, black eggcrate in a tidy wing, has been replaced with a mouthful of licorice chewing a chrome H. Now it looks more like other Hondas, mission accomplished.
Some people think it's better looking because it's crisper and there are more aerodynamic lines, but we think it's more cluttered than crisp. Either way, the Fit is wedgiest of all, from the steep short nose to the steep high beltline.
There's a new and distracting deep groove that starts from the unfortunately edged front fender, arcs in contradiction to a wedge, and zooms upward through the door handles to the enlarged taillights. Being shorter and with a wider stance in profile, on its longer wheelbase with bigger wheels and tires, it should look more muscular, but the groove blows it.
Bigger glass makes it adult and capable. Use your wild imagination and it looks almost like a Volvo from behind. Except for the chrome.
Interior
The Fit is pretty boring inside. The dashboard seems huge, and you can't see any of the hood because it's so short and steep. From behind the wheel it feels like a small, low minivan, which it basically is.
The EX-L with Navigation uses a big touch screen that dominates the controls. Some of the gauges and vents have plastic trim in faux brushed-aluminum, which makes an attempt of cohesion in their shape, rectangles open on one side. It looks like the budget trim that it is.
The leather seats on the EX-L are too stiff and wide for us. We got out of 200 miles in an Acura RDX to begin 200 miles in the Fit, and the seats were like night and day. Our jaded rear cried out in protest within the first five miles. We had to stop and stretch a couple times.
On our two-day 360-mile road trip, we watched the Distance to Empty gauge a lot. It was wildly inconsistent. We also used the touch screen, which was hopelessly non-intuitive. Navigation worked well, partly because it could be programmed without using the touch screen, but the screen with the nav guidance was busy and required focus to follow. Meanwhile, radio tuning was a distracting nightmare.
Honda calls its rear seat Magic. The split seat folds flat with one drop, and also clicks into other positions called Tall and the futon-like Refresh. The rear legroom of 39.3 inches blows the competition out of the water, and even beats many much larger cars.
The front passenger seatback reclines to the horizontal position, for sleeping at a rest stop or for carrying everything from a kayak to a stack of two-by-fours. And that is kind of magic, for a car this small.