2016 Honda Odyssey Driving Impressions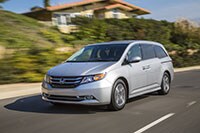 Delight isn't a typical description of the minivan experience, but it applies to the Odyssey. In addition to nicely-tuned ride and handling behavior, Honda's minivan responds briskly, able to reach 60 mph in about 8.8 seconds. That's about par for a minivan, but Odyssey feels even swifter.
Drivers can savor a variety of carlike attributes, as the Odyssey inspires confidence at every step: steering, accelerating, braking, and lane-changing. Honda's transmission smoothly delivers quick, decisive shifts when accelerating rapidly, though gear-changes can occasionally be balky when driving more leisurely. Only an L mode and an Overdrive-off button are provided; no paddle shifters.
Handling almost like a V6 Accord, the Odyssey can run through corners with controlled poise, but little harshness. Sensibly-tuned, isolated subframes help eliminate any secondary motions that could make for a queasy ride. Variable-displacement power steering is weighted well and provides a bit of feedback from the road.
Honda claims best-in-class fuel economy, EPA-rated at 19/28 mpg City/Highway. That's significantly better than top competitors like the Dodge Caravan and Toyota Sienna.