2016 Honda Odyssey Walk Around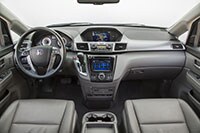 The Odyssey is visually more interesting than your run-of-the-mill minivan. Its unique profile, with an arched roofline, sets it apart from its rivals. Taken as a whole, with chrome carefully applied, the overall design balances one-box practicality against a certain sense of style.
Not only does the lightning bolt along the bodyside attract the eye, it helps improve outward views for rear passengers. Little windows ahead of the mirrors convey a mildly futuristic look, though they don't do much for visibility. At the rear, the body appears markedly more sculpted and flared than is customary. An Odyssey is a little wider than usual, too. Add a bold grille and deeply sculpted hood, and the Odyssey becomes almost one-of-a-kind in the minivan arena.
Interior
Inside, the Odyssey appears more utilitarian, but it delivers the attributes that minivan shoppers seek: comfort, space, and versatility. The upright instrument panel has a familiar look, in a simple layout that uses large controls.
Seats are comfortable in each position, though those up front lack both back and lateral support. Still, they're quite wide, which helps provide sufficient comfort for everyday use.
Second and third rows can slide fore and aft, though the middle row doesn't fold into the floor. Second row seats also slide outward, actually changing available width. Adults of average height fit in the third row, at least for short trips, though seats feels somewhat low. Cushioning falls short of the front rows, too, though the folding mechanism works well..
With both rear rows folded, space is sufficient for two ten-foot 2×4 studs, or 4×8-foot plywood sheets. Up front in some models are a cooler box and a trash-bag ring. Interior materials are easy to wipe clean, too. All told, the interior is surprisingly quiet and refined.
Available rear-seat DVD entertainment includes a 16.2-inch screen that can be split in half to show separate presentations.
And the vacuum cleaner works well, we recommend it.