2016 Honda Pilot Introduction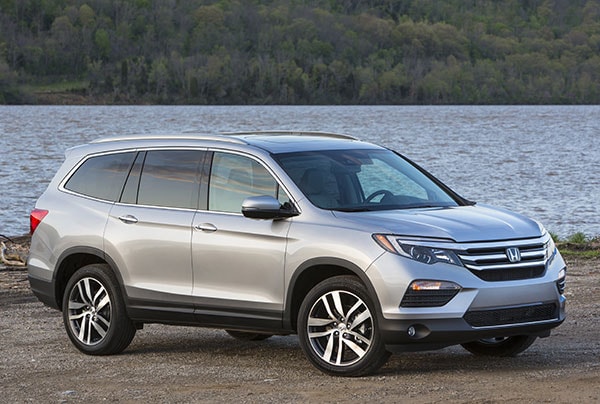 The Honda Pilot is all-new for 2016.
No longer square, the shape of the 2016 Honda Pilot is smooth and pretty. The new Honda Pilot is a bit longer, narrower and lower than the 2015 model. It's also 300 pounds lighter, tipping the scales between 4,054 and 4,317 pounds, depending on trim level.
The 2016 Pilot has the same interior volume as before, with more space for frontal crash structure, third-row seating, and cargo. The new Honda Pilot is nearly as roomy as the Odyssey minivan. It seats eight. Fold the second and third rows and it becomes a serious cargo carrier. From the driver's seat, it feels luxurious and refined.
The new Pilot delivers energetic acceleration, 22-mpg EPA Combined city/highway gas mileage, and engaging handling.
The new Pilot pours on the latest features: safety, interior, infotainment, plush trim. It feels more like the upscale Acura MDX. The Honda has some features that are better than Ford Explorer, Nissan Pathfinder, Toyota Highlander, and Chevrolet Traverse.
The 2016 Honda Pilot comes with one engine, a 3.5-liter V6, that increases a bunch in horsepower and torque for 2016, to 280 hp and 262 lb-ft. It uses either a six-speed or nine-speed automatic transmission, depending on the model, and comes front-wheel drive or all-wheel drive.
Fuel economy for the 2016 Pilot is an EPA-rated 19/27 mpg City/Highway, or 18/26 mpg with all-wheel drive.
Some models include a traction management system like on the Ford Explorer, Jeep Grand Cherokee, or Land Rover Discovery, along with 7.3 inches of ground clearance. A properly equipped Pilot is rated to tow up to 5000 pounds, though we'd spring for a stouter truck if we were pushing that limit on a regular basis.