2016 Hyundai Accent Driving Impressions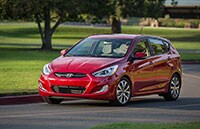 The Hyundai Accent drives as expected. Neither sporty nor luxurious, it feels like a no-nonsense front-wheel-drive subcompact.
The Accent rides comfortably on smooth roads, winding or straight. Potholes and rippled highways can be rough going, however, the suspension designed for simplicity, space efficiency and, most important, low cost. The electric steering in the Sport models offers the best feel.
Fuel economy is an EPA-estimated 26/37 mpg City/Highway with the popular automatic transmission, 27/38 mpg with the manual gearbox. That's comparable for other subcompacts, except the more-expensive Honda Fit, which delivers significantly better fuel economy.
Accent's 1.6-liter engine is rated at 138 hp and 123 foot-pounds of torque. It has to be revved when acceleration performance is needed, but the best fuel economy comes when taking it easy.
Accelerating from a standstill to 60 mph
An Accent with the 6-speed automatic is capable of accelerating from in 10 seconds, a sluggish performance easily beaten by nearly every car on the road, including electric cars. And that's with just a driver on board. Add a couple of passengers and it's taxed.
The manual gearbox is a nice option with its light clutch effort but the automatic works well and includes a Sport mode and manual shifting control.