2016 Hyundai Elantra GT Walk Around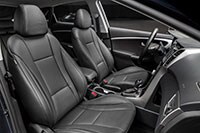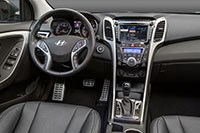 The Elantra GT grille is huge, a shape that might once have been a hexagon, now bloated almost to roundness. Like many others today, it's not really a grille, because so little of the space is needed and used to pass air to the engine. It's a plastic design on the nose of the car intended to look like a grille. It shouts Hyundai, so there's little mistaking this hatchback.
The edgy front fender flares are quite radical, their arch rising all the way to the level of the hood, suggesting cutouts on an old-school stock car, and making the wheels look two inches bigger, especially the optional 17-inch alloys, with 10 spokes that are kind of clumsy on a car that can't afford it. The minor majesty begins at about the sideview mirror, where the convergence of the wheelwells, sleek headlamps and the steeply swept A pillar flow up to the roof, and immediately slope back down to the hatch with a rear spoiler. The designer who first sat down with a sketchpad and white paper went home smiling that night.
Interior
The interior is far less adventurous than the exterior, although the cooled glovebox is a trip. There's a big soft dashboard, and deep center console with sliding armrest. An AM/FM/CD/XM sound system with USB and Bluetooth is standard, with a tilt/telescoping steering wheel with audio controls. The standard seats are fabric, and heated.
The available panoramic sunroof can make the hatchback feel almost like a T-top, on the right day, while seven standard airbags, including one for the driver's knee, make the Elantra GT feel secure.
There's decent legroom in the front, but not much in the rear. The rear seats fold nearly flat, giving 51 cubic feet of cargo space, which is more than the Elantra sedan. And there's 23 cubic feet behind the rear seat, more than some compact luxury crossovers. There's a shallow storage tray under the cargo floor.