2016 Hyundai Elantra Driving Impressions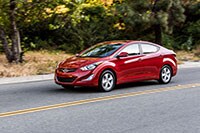 Elantra's 1.8-liter engine has a smooth idle. It stays calm in most of the rev range, unlike larger four-cylinder engines. It's right at home between 2500 and 4000 rpm, especially with the 6-speed automatic, which has an ECO mode that relaxes shift and throttle response, gaining up to 7 percent better fuel mileage.
The Elantra isn't as lively or fun as the Ford Focus or Mazda3. The throttle, transmission and steering just aren't as quick. The electric power steering can be set for three levels of resistance, but none of them sharpen the feedback.
The ride is sporty, not firm, and the brake pedal is firm. The Elantra uses disc brakes front and rear, unlike too many other compacts that use drums on the rear to cut costs.
The Elantra Sport uses the same 2.0-liter engine that's in the Kia Forte, with 23 more horsepower and 25 more foot-pounds of torque than the base sedan. To us, the bigger engine seemed to make more of a difference in engine noise than thrust. The Sport also features stiffer shocks and springs, and a fatter stabilizer bar.