2016 Hyundai Elantra Walk Around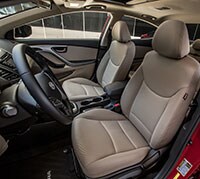 We love the energetic daring design of the Elantra. Complex curves swoop toward the rear and gather there, while others push against the flow, bowed forward at the cuts of the doors.
It's a flawless, confident, and sophisticated profile that takes the Korean automaker into the land of fresh thinkers.
The Elantra looks like it's moving. Details are covered, from the crease that runs to the C-pillar to the marker lights that hang over the centers of the front wheels. We like the rising line from the lipped wheelwells to the taillights.
Interior
The interior is daring too, just look at that hourglass center console, which is fresh, distinctive, and brilliant where it meets the dashboard. But the interior is also subdued, as the same complex curves are cohesive.
The front seats are shy in bolstering and seat cushioning, but there's good elbow room all over. Legroom in the front is fine for tall persons, and the rear is fine for adults; but headroom is tight, like any compact except maybe the Jetta. Heated rear seats are available as an option, but not a separate heat vent for the rear.
The interior plastics, both hard and soft, are par for the class. There are a lot of useful storage spots. There's a handy module with an auxiliary jack, power point, and USB port. The available leather is supple, perforated in a wave pattern.
It's quieter inside than most small cars, partly because the suspension is soft; at highway speeds it's as quiet as a mid-size car.
The rear seats easily fold forward, nearly flat.