2016 Hyundai Equus Driving Impressions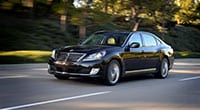 Serene, pleasant motoring is the byword in an Equus, augmented by a sense of luxury. On a more practical level, Hyundai's top sedan performs as swiftly as a Lexus LS. Comfort mode makes the Equus feel softly sprung, while Sport mode cannot match the tautness of a competitor like the Lexus LS F Sport.
Handling ranks as similar to that of a Lexus LS, well short of the best in its class. Requiring only a light touch on the steering wheel, Equus behaves gracefully and quietly in straight-line motoring. When the road starts to wind a bit, however, it cannot keep up with European sedans. Ride softness translates to a lack of total control, though switching to Sport mode yields greater driver confidence. Otherwise, expect considerable body lean in tight corners, as well as nosedive during hard braking. Better to slow down to where the Equus imparts a sense of precision and poise.
Ride quality is good and road and wind sounds seldom seep into the cabin. Electro-hydraulic steering likely helps in that department. Even with 20-inch tires, harsh reactions are rare. Equus is not a sports sedan but performs admirably as a refined luxury sedan.
Acceleration to highway speed is brisk, courtesy of the powerful 5.0-liter V8. Gear changes from the 8-speed automatic are smooth but lingering, rather than crisp and quick.