2016 Hyundai Equus Introduction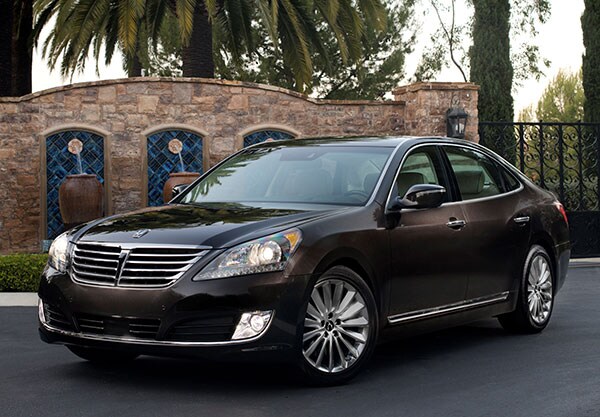 The Hyundai Equus is the Korean automaker's flagship luxury sedan. Introduced to the lineup for 2011, the Equus is a step above the sizable but less-posh Genesis. The Hyundai Equus cannot match the merits of the finest luxury sedans, but it delivers plenty of power and a driving and riding experience that keeps its occupants largely insulated from the imperfections of the road.
Little has changed for 2016, apart from the addition of a hands-free trunk opener. Refreshed two years back, Equus remains largely based on the first-generation Genesis, which fell well short of luxury status.
Nothing is particularly striking about Equus design, which is essentially derivative. Overall, the sedan aims more toward luxury than crisp, capable handling, or even a fully comfortable ride. Each Equus has an air suspension with Sport and Normal modes, and there's a noticeable difference between the two. Interior space is comparable to that of a Lexus LS sedan.
Clearly, Hyundai made interior space and comfort a primary goal, especially in the back seat. Even though a four-passenger model isn't available anymore, and the rear bench seats three, Equus could easily be defined as close to limousine-like in its overall demeanor.
Performance is an Equus strong point. You'll pay a price at the pump for its strength, but the burly, direct-injected 5.0-liter V8 generates a hefty 429 horsepower and 276 pound-feet of torque. The smooth-shifting 8-speed automatic transmission incorporates a manual shift mode.
Acceleration from 0 to 60 mph takes about 6 seconds, accompanied by a somewhat throaty exhaust note that's a pleasant surprise in a car of this class. As for economy, the Environmental Protection Agency estimates an unappealing 15/23 mpg City/Highway, or an EPA-estimated 18 mpg Combined.
Nine airbags are standard, including a knee airbag for the driver. Blind-spot monitors are standard, but a lane-departure warning is optional, and adaptive cruise control comes only on the Ultimate edition. Replica instruments on the Ultimate model's 12.3-inch TFT screen substitute for traditional-type gauges.