2016 Hyundai Equus Walk Around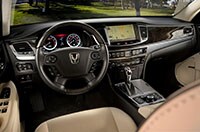 The Equus is not adventurous or bold or even distinctive in appearance. Yet, it's handsome enough, and looks the part of a competent, spacious, serious automobile.
Interior
Truly fine leather and high-grade wood decorate the Equus interior, imparting a sense of plushness and sincerity. Although back-seat space trails long-wheelbase versions of some German-made luxury sedans, it's quite comfortable. Both headroom and leg space are bountiful, and the rear bench easily seats three-across.
Outboard rear seats deliver more comfort than those of similarly-priced rivals. Seatback-angle adjustment lets passengers find the just-right position for comfort.
Front seats aren't so firmly upholstered, and aren't as staunchly side-bolstered as some competitors. Instrument panels are trimmed in walnut or birch, while the dashboard and door panels are covered in leather. The headliner is lined in suede, and the console is framed with wood. Overall fit and finish is particularly praiseworthy.
Most secondary controls may be adjusted using the Driver Information System, using a knob on the console. Hyundai's setup is similar to the ones used by BMW, Audi, and Mercedes-Benz. The large LCD screen features high-resolution graphics. Rotating-wheel controls are available on the steering wheel.