2016 Hyundai Veloster Summary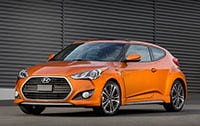 If you like the quirky looks (we do), and can live with the single small rear door (we can), the Hyundai Veloster has a lot going for it. Decent power and cornering, good transmissions. It turns heads, is fun to drive, and gets great fuel mileage.
Sam Moses contributed to this report.