2016 Hyundai Veloster Walk Around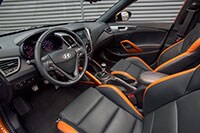 We wouldn't call the Hyundai Veloster beautiful, despite its curvaceous roofline, just distinctive, with proportions unlike anything else on the road. There's not a lot of trim tarting it up; instead, it stands out with the use of LED headlamps and taillamps, a big black grille, and side skirts.
Interior
Inside, the Veloster tosses some conventions aside, although it doesn't set trends like the sheetmetal does. Not unless you count the motorcycle-inspired bits, for example a center console that's intended to look like a bike saddle, and air vents suggesting tailpipes. There's a good number of nooks, bins and cubbies. On the Turbo, there's a giant start button.
For a compact car it's spacious in front, but in the rear it's only playful, not exactly practical. The small door makes climbing in and out a challenge for adults. It works better with the rear seat dropped for a road trip for two, or for carrying gear for a weekend.