2016 Jaguar XF Introduction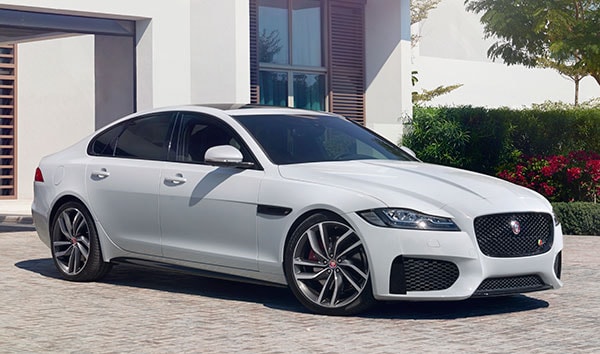 The all-new 2016 Jaguar XF is a luxury midsize sedan that competes with the Mercedes-Benz E-Class, BMW 5 Series, Audi A6, and Cadillac CTS. The first generation ran from 2009 to 2015, and was well received, often called the most beautiful in its class, but it was still a step below the Benz, BMW, Audi and Cadillac.
Like other Jaguars, in particular the F-Type sports car, the new XF is made of aluminum glued and riveted together. Strong and light, this structure enables the car to be quick and nimble. The XF weighs about 250 pounds less than before, with 50-50 balance. It supports a twin-wishbone front suspension for supple dynamics. The aluminum chassis allows other improvements, for example a roomy back seat and big trunk, in a car that's a bit shorter than before.
The XF uses supercharged 3.0-liter V6 engine with 8-speed automatic transmission. It's rear-wheel drive, with all-wheel drive available.
There are two specs for the engine, either 340 horsepower and 332 pound-feet of torque, or 380 hp with the same torque. The latter is an all-wheel-drive hot rod that can do zero to 60 in 5.0 seconds, with a top speed you can only imagine what might be, since it's electronically cut off at a mere 155 mph. (Coming soon are a couple of four-cylinder engines, one of them a turbodiesel promising 40 highway mpg.)
Fuel economy with the standard supercharged V6 engine is an EPA-rated at 20/30 mpg City/Highway, or 24 mpg Combined. With all-wheel drive, it's 20/28 mpg, or 23 mpg Combined.
The XF had not been crash tested when this was published, but the bonded-riveted aluminum chassis has proven to be safe. And the XF offers solid safety technology, with surround-view cameras, LED headlamps and head-up display, as well as adaptive cruise and blind-spot monitors, and autonomous braking.