2016 Jaguar XJ Introduction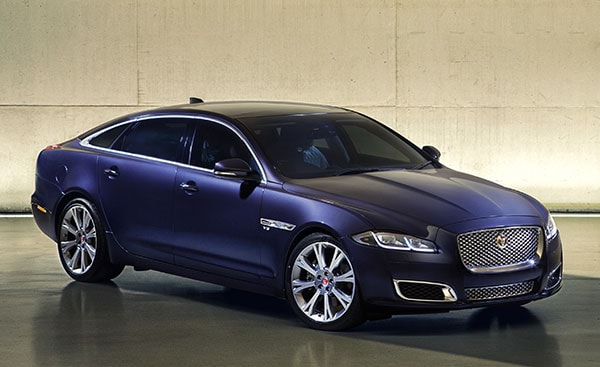 The Jaguar XJ is the brand's flagship four-door luxury sedan. With an aluminum body and chassis parts, the XJ is light and nimble for its size, and it gets good fuel mileage, with an EPA-estimated 27 mpg Highway. There are standard and long wheelbase models, in rear-wheel drive or all-wheel drive.
The standard engine is a supercharged 3.0-liter V6 making 340 horsepower, able to accelerate from zero to 60 mph in 5.7 seconds. We have found that engine to be plenty fast.
Also available: a pair of supercharged 5.0-liter V8s. One makes 470 horsepower, while the one in the XJR makes 550 horsepower; they can accelerate from 0-60 in 4.9 and 4.7 seconds, respectively. The XJR gets more performance features, including a firmer suspension, aerodynamic splitter in the front and spoiler in rear, and sporty interior touches.
There is one transmission, a crisp 8-speed automatic that mates well with the supercharged V6 and V8 engines. But it's the car's relatively low curb weight that most affects its curb manners. The aluminum body panels are riveted and bonded, bringing the number on the scales down to 4200 pounds, which is several hundred pounds less than the Jaguar's German competitors.
The Jaguar XJ offers good comfort and a plush interior with supple leather and real wood veneer trim, although the cabin is tight and too shiny for our tastes. It features heated front and rear seats, ventilated and massaging front seats, and ventilated rear seats. Jaguar's service plan pays for everything but tires for the first five years or 50,000 miles.
The 2016 XJ gets subtle design tweaks. The 2016 Jaguar XJ grille is bolder, larger, straighter and has a new mesh pattern. Adaptive LED headlamps are standard, as is electric power steering on rear-wheel-drive models, and the taillights are restyled. Also new for 2016 is Jaguar's infotainment system called InControl Touch Pro, with its eight-inch touch screen and navigation that can hook up with a smartphone. The XJL Portfolio and Supercharged models get quilted leather to make the interior even more fabulous.
Supplementing six airbags, safety options include adaptive cruise control that alerts to speed limit changes ahead, blind-spot monitoring that also alerts to cars approaching quickly from behind, and back-up alerts. But there are no lane-drifting alerts, head-up displays, or night vision. The Jaguar's competition from BMW, Mercedes-Benz, and Audi offer these things.