2016 Jeep Cherokee Walk Around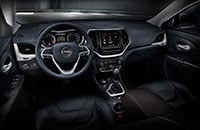 At first glance, the Cherokee might induce a surprised, bewildered impression, but it may look more enticing later. Futuristically shaped, if somewhat cluttered, the front end stands well apart from familiar, square-jawed Jeep tradition.
Controversial it is, led by its slim nose; but this vehicle class was ready for fresh ideas. Some critics see hints of the old Pontiac Aztek in the Cherokee's running-light positioning and tiered face, a terrible comparison. The familiar seven-slot Jeep grille is there, but appearing to some eyes as an afterthought. Love or hate the look, it's provocative.
Interior
If the Cherokee's exterior polarizes opinions, the carefully crafted interior presents a unifying tone. Not trucklike at all, it has a sporty aura, smoothly finished and handsome.
Soft-touch surfaces are accompanied by smooth-operating buttons and switchgear. Noise is filtered well. Small-item storage is good, and Uconnect infotainment impresses.
Spacious and well-designed, the cabin contains some impressive materials, though taller folks might not be pleased with the driving position. Because of the unusually shaped front compartment, too, bigger drivers might contact the center console and door panels. Also, the steering wheel tilts upward more than usual.
Seats are supportive enough in Latitude trim, but better with Nappa leather in Limited form. Headrests sit forward too much, forcing some drivers into a more laid-back driving position. The rear seat can feel cramped for adults. Prominent front headrests might force back-seat riders into a slouching position. Outward visibility is reasonably good.