2016 Jeep Compass Driving Impressions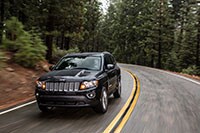 The Compass drives nicely, though its main distinction is its off-highway capability.
While a 5-speed manual gearbox is available, the 6-speed automatic is nicely refined and impressively responsive, so it gets our recommendation for most buyers. The automatic has a high top gear that helps highway fuel economy, plus a low-ratio first gear for more spirited launches. Manual shifting is available, too. While drivability with the manual gearbox is decent, a notchy shifter and imprecise clutch action takes much of the joy out of manually shifting.
Partly because it incorporates a Low range, the CVT is required if you want a Trail Rated badge and the best off-road system: Freedom Drive II four-wheel drive. With that setup, a Compass can undertake far more off-road situations than most crossovers of its size.
Ride and handling are fine in most street and highway conditions. With its short wheelbase, the Compass can feel busy over imperfect pavement. The ride leans toward the harsh end of the spectrum, making it feel more like being in a small car than in a compact crossover. Steering is weighted well enough; but here, too, a Compass drives like a tall small car.
Two distinct all-wheel-drive options are offered. Freedom Drive I is more basic, simply providing rear-wheel torque when needed. Freedom Drive II is more effective, teamed with a CVT that includes a low range.
Compared to most newer rivals, the Jeep Compass trails in fuel economy. With manual shift and the 2.0-liter engine, Compass is EPA-rated at 23/30 mpg City/Highway. Automatic and all-wheel drive drop the estimate to 21/27 mpg City/Highway. Pick Freedom Drive II, and mileage sinks to 20/23 mpg.