2016 Jeep Compass Walk Around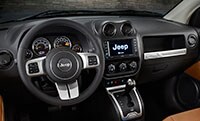 Essentially obsolete, the Compass has been available for a decade, without a significant redesign. Yet, it doesn't seem quite as outmoded as its years suggest. That's because a number of notable changes took place for 2011, sprucing up some of the awkward elements of the original design. 2015 brought some detail changes, led by a new grille.
Overall, Jeep's smallest crossover looks somewhat like a miniature Grand Cherokee. Boxy-looking wheelwells and an ungraceful rear uptick stem from the early Compass, now in a softer form. A few imperfect angles remain evident, yet the elements fit together better.
Interior
Taken as a whole, the cockpit comes across as straightforward and functional. One oddity makes it seem especially dated: Occupants sit well below the beltline, in contrast to the configurations found in most modern crossovers, including the Jeep Renegade.
As a result, the dashboard seems high. The comparatively low seating position makes visibility a challenge when parking or changing lanes. That makes the rearview camera a compelling option for the Compass.
Front-seat comfort is adequate, but no more. Worse, the back bench is one of the hardest and flattest that we've ever tested in a vehicle of this type.
Acoustic laminated front windshield glass helps control engine noise, which has been an issue from the start. At least, noise levels have improved lately.
Sensibly laid-out, the interior has such appealing features as outward-facing tailgate speakers. All told, though, the cabin ranks near the rear of its class in detailing and refinement.
Cargo space is in short supply, though rear seatbacks flip forward easily.