2016 Jeep Patriot Driving Impressions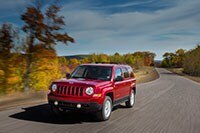 Jeep Patriot scores well in a couple of areas but fails to impress in others. Maneuverability is excellent. So is the four-wheel-drive Patriot's true Trail Rated ability. Otherwise, the driving experience is unremarkable.
A few years back, the Patriot improved considerably when the original CVT gave way to a responsive, smooth-shifting 6-speed automatic transmission. Now, three systems are available: front-wheel drive and a choice of two four-wheel drive setups.
Snowbelt residents who plan only mild or no off-roading are best off with Freedom Drive I, which includes a locking center differential and either a manual transmission or 6-speed automatic. Hardy off-roaders will be tempted by Freedom Drive II, which includes a Low range for true off-the-pavement activities. It's a worthwhile system, but you must accept the CVT, which has the Low range built-in. Reflecting the traits of the worst CVTs, it's short on responsiveness and suffers pauses reminiscent of a rubber band, accompanied by droning sounds.
A Patriot is especially useful for urban tasks: a joy to maneuver and easy to park. It's also acceptable on the highway, or for modest off-roading on a budget. If you want more than the minimum, this Jeep falls well short on refinement and sophistication. Ride quality, while satisfactory, can become a little more active than in newer small-size crossovers.
For its size, the Patriot isn't all that fuel-efficient. Thriftiest is the 2.0-liter engine with manual shift, EPA-rated at 23/30 mpg City/Highway with front-drive, followed by the 2.4-liter with automatic at 23/29 mpg. Pick that CVT-equipped Freedom Drive II package, and the estimate drops to 20/23 mpg City/Highway. Other variants fall between those estimates.