2016 Jeep Renegade Driving Impressions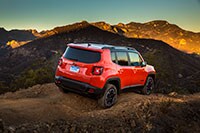 Built on the same platform as a Fiat 500X, the Jeep Renegade does not offer the capability of a Wrangler, but it is impressively capable over rugged terrain. The Renegade has no trouble climbing steep inclines on dirt and gravel roads, and little difficulty coming down them. A Renegade can climb through boulders almost as large as its wheels, ford streams, and amble enthusiastically through mud.
As expected, a Trailhawk performs best over rugged terrain, helped by its 8.7-inch ground clearance. Standard Renegade 4×4 models offer 7.9 inches, while 4x2s have 6.7 inches.
Acceleration is not a strong point for the Renegade, and the ride is often rough. Among the models, the standard 1.4-liter turbocharged engine, with manual shift and front-wheel drive offers the most energetic experience. All-wheel drive slows it down.
Most Renegades come with the 2.4-liter four-cylinder and overall they feel more ponderous. Note that while the 2.4-liter engine offers more horsepower, it does not offer as much torque as the 1.4-liter turbo engine does, and the 2.4-liter has to rev higher to achieve its peak torque. Also, the 9-speed transmission is rough and hunts through gears.
Electric power steering provides only modest feedback, but many drivers won't notice. The Renegade holds the road comfortably, coping with winding two-lanes better than expected, but passengers sit high and are conscious of the car leaning in sharp curves.
The Renegade is easy to park and its diminutive size helps it maneuver in tight quarters, be they crowded parking lots or small primitive trails.
All-wheel-drive Renegades start off on dry pavement with all four wheels powered for maximum traction. Then, the SelecTerrain system tapers the power away from the rear wheels and directs it more toward the front wheels. When slippage is detected, it varies torque between front and rear.
Fuel economy is only average. The 1.4-liter turbo engine is EPA-rated at 24/31 mpg City/Highway with either front-wheel drive or all-wheel drive. Upgrade to the 2.4-liter engine and Renegade estimates dip to 22/31 mpg City/Highway with front-wheel drive, or 21/29 mpg with AWD.