2016 Jeep Renegade Walk Around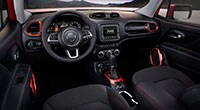 Mixing a healthy dose of tradition with an small body, Renegade slips into the midpoint between cute and rugged. Even though it looks more like an authentic Jeep than the bigger Cherokee, underneath, it's an Italian-made hatchback.
Upright and square in profile, Renegade leads off with a blunt front end and mildly angled windshield, finishing with a vertical tailgate. Because of its tall, upright silhouette, only a glance is needed to determine that it's a full-fledged Jeep. Round headlights add to the retro look, and the prominent seven-slat grille clinches its brand identity. Several unique touches identify the Trailhawk, including black aluminum wheels and red tow hooks.
Interior
Front occupants are likely to be pleased. Seats are comfortable and nicely bolstered. Renegade is wider than many small SUVs, and passenger shoulders are comfortably separated. Headroom is huge, front and rear. Upright seating helps visibility, but the view to rear quarters is limited by thick roof pillars.
Back-seat room may suffice for two adults, but it's snug. Measuring 18.5 cubic feet, cargo room is sizable behind the rear seat, which folds flat.
Controls are slightly oversize. Large ventilation knobs are easy to decipher at a glance. Sizable surfaces may be hard plastic, but panels that invite contact are soft-touch vinyl. The refined interior isn't especially Jeep-like, apart from military-inspired textures and Jeep cues. The console offers plentiful storage space.
Though surprisingly quiet on most paved surfaces, a Renegade can get noisy. Tire noise ranges from nearly nonexistent to substantial, but wind sounds appear only at high speeds. Drivetrain noise emerges when the turbocharged engine works hard.