2016 Jeep Wrangler Driving Impressions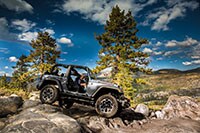 The V6 engine is powerful while being a gas hog. It revs smoothly and quickly.
The 5-speed automatic shifts softly under light acceleration and sharply when you're on the gas harder.
The 6-speed manual is a must for the Wrangler to feel like an authentic Jeep. It features long throws and long pedal travel, and enough vibration to feel what the vehicle is doing. The top gear ratios are tall, in both the manual and automatic, to keep revs and vibration down at higher speeds. Too bad it's not enough to keep down fuel consumption. Aerodynamics, not so much here.
The Rubicon has its own final drive, for scaling boulders, along with the right numbers: 44.3 degrees approach angle, 25.4 degrees breakover, and 40.4 degrees departure. Those are useful numbers to serious off-roaders.
The steering, thanks to the old recirculating-ball setup, leaves a lot to be desired. The turn-in is crisp enough, but overall it feels dull, with a dead zone. And it's not responsive in curves, thanks to the tall tires. But on the trails the Wrangler comes to life. Mud, sand, rocks, snow: bring it on.
For its final trick, the Wrangler will start in gear and your foot off the clutch, in 4WD Low range. The starter gets the Jeep going, on steep hills where you want your left foot on the brake.