2016 Kia Cadenza Driving Impressions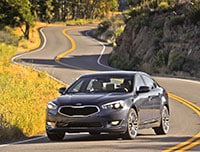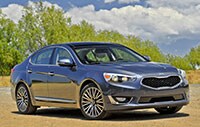 Cadenza accelerates briskly and responds smartly for a full-size sedan, while braking strongly and confidently. At the same time, it exudes calmness, helped by relaxed steering/handling. Anyone seeking a sporty driving experience needs to look elsewhere. In the interest of comfort, Kia elected to omit the sort of athleticism that can make a big front-drive car feel engaging on the road.
The steering feels light, though it tightens up when making a turn. Still, the driver can expect no more than a trace of road feel. At cruising speeds, driving demands more attention than usual, and slight adjustments must be made to remain on course. On curvy roads, the Cadenza behaves nicely, as long as you don't push to hard.
The light steering turns into a benefit at low speeds and for parking when the Cadenza maneuvers easily in tight quarters.
Engine response varies according to road speed. At lower revs, relatively low torque output tends to limit start-up acceleration. As the V6 builds up speed, the Cadenza becomes a lot more enthusiastic when pushing the gas pedal.
Paddle shifters on upper models supplement a shift gate on the console. Because the two top gears in the automatic transmission are rather tall, frequent downshifts can occur on long upgrades. Cadenza lacks a sport mode.
Even compared to other large sedans, fuel economy falls somewhat short, EPA-rated at 19/28 mpg City/Highway, or 22 mpg Combined. Hyundai's Azera scores marginally thriftier, despite using what's essentially the same powertrain.
Final Word
The Kia Cadenza is a nice premium sedan, though it does not qualify as true luxury. Considering its abundant standard equipment, even in base trim, the Cadenza scores high in the value department. The Cadenza SX Limited comes with just about every available feature.
Driving impressions by Marty Padgett, The Car Connection. James M. Flammang contributed to this report.