2016 Kia Cadenza Walk Around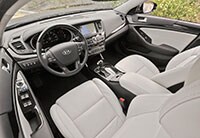 Despite being based on the Hyundai Azera, the Kia Cadenza sets its own design path. Interiors and exteriors of the two sedans differ considerably, making it hard to believe that anything is shared.
Handsome proportions and an athletic stance enhance Cadenza's appearance, helped by substantial stretches of unadorned sheetmetal. It might not be a sports sedan, but Kia's premium sedan looks like one, exhibiting sporadic, subtle hints of European influence. The long, carefully contoured hood and short rear deck make it look more like a rear-drive model than the front-drive car that it is.
Subtle bodyside creases direct the eye toward the taillights. Not every large sedan has an interesting profile, but the Cadenza does.
Interior
Fine detailing and a rich appearance mark the spacious, nicely trimmed interior. The dashboard blends traditional design with leading-edge themes, making use of soft-touch materials with careful woodgraining. All interior materials are impressive.
Unlike many contemporary cars, the Cadenza relies on knobs, switches, and buttons instead of electronic controls, and that makes it easier to operate. An analog clock sits below the 8-inch touchscreen.
Drivers of various sizes should be able to find a good position, and legroom is quite good. Cadenza can hold five adults. The front seats are too soft; more firmness and bolstering would be welcome. Passengers can expect a whisper-quiet, comfortable ride, devoid of old-fashioned big-car motions.
Most Cadenzas are equipped with a two-panel panoramic sunroof, which lets in plenty of light but limits back-seat headroom for taller riders. Rear legroom is sufficient for passengers over six feet tall.
Working with an SD card, the standard navigation system is among the best, providing clear and colorful map displays. Scrolling smoothly, it toggles readily between zoom levels, split-screen views, and live traffic warnings.