2016 Kia Optima Driving Impressions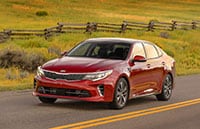 Compared to rival sedans, the 2016 Optima feels responsive and nimble. Ride quality has been improved by moving suspension mounting points outward, on the stiffer body. Therefore, the 2016 Optima feels more compliant over mild bumps, as well as less bouncy over potholes and train tracks. Though not sporty, the Optima boasts an appealing ride/handling compromise.
Most enjoyable of the three powertrains is the 2.0-liter turbo, in Optima SX and Optima SXL trim. Its 6-speed automatic upshifts smoothly and downshifts promptly, with paddles to change gears manually.
Turbocharged performance mixes with thriftier fuel economy in the Optima LX 1.6T, but hesitation in the dual-clutch transmission interferes with drivability. On curves and hills, that version tends to struggle. Parking is clumsy and frustrating.
Optima LX and Optima EX models get the 2.4-liter direct-injected four-cylinder engine, mated to a 6-speed automatic. Most buyers should welcome this team's smooth responsiveness, though the transmission will tend to downshift more often than with either turbo.
A Driver Mode Select system provides three modes, changing shift points and throttle sensitivity accordingly. Eco Mode resulted in hesitant shifting.
The base 2.4-liter engine is EPA-rated at 24/35 mpg (City/Highway), versus 22/32 mpg for the 2.0-liter turbo. The 1.6-liter turbo is EPA-rated at 28/39 mpg (City/Highway).