2016 Kia Optima Walk Around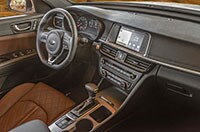 While most midsize sedans have grown more interesting visually, the 2016 Optima stands out less sharply. For its fourth generation, designers appear to have followed a careful, mildly evolutionary path.
Despite modest visual change for its 2016 redesign, Optima continues many design themes that were formerly forbidden in sedans. Consider the curvaceously swoopy, coupe-like roofline, the rear-tapering greenhouse, and proportions that echo a rear-wheel-drive sports sedan.
Front/rear styling touches and softer-looking sheetmetal result in a design that's matured. Modestly longer, taller and wider, the 2016 Optima is slightly more spacious and comfortable than before. Long rear doors make entry/exit easier than in most midsize sedans.
Interior
Evidence of the 2016 redesign is more noticeable inside. The front seats have improved, due to better use of space. Seating comfort is quite nice, courtesy of a new seat design with longer lower cushions and greater side support.
The rear seats aren't the most comfortable. Cushions are a tad short and flat, as well as low, leading to knees-up posture and taller folks' heads hitting the headliner.
Trim pieces, buttons, and switchgear are markedly improved. Less segmented than before, the instrument panel isn't as slanted toward the driver.
In addition to abundant space, Kia offers one of the quietest and most refined interiors in the midsize sedan class. That's quite a change, as the prior generation's cabin was among the noisiest.
Rotary knobs are used for audio volume and tuning, as well as temperature settings. Gauges are legible, and touchscreens are comparatively intuitive.