2016 Kia Rio Driving Impressions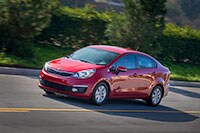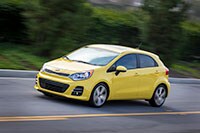 Rio is a mix of small-car bonuses and shortcomings. The 1.6-liter engine runs and revs smoothly, and sounds are largely subdued when underway. Though short of swift when driven gently, it's not fully sluggish. Energy is sufficient as long you push the pedal somewhat aggressively when necessary. With either transmission, though, acceleration is relatively slow-paced. Think 10 seconds or so, to reach 60 miles per hour, which is lethargic performance.
For a small, economy-focused car on a short wheelbase, Rio handles surprisingly well, remaining composed and collected under just about every driving condition. Steering does not provide sufficient feedback, though it's a little better with the sportier SX. Still, no Rio matches the Ford Fiesta in suitably weighted, responsive steering.
The ride is comfortable, lacking the bounciness, or overreactions that tend to be typical of small cars. Sporty SX trim brings a slightly stiffer ride, largely because of its lower-profile tires, but the difference is minimal.
As for fuel economy, the most thrifty Rio gets an EPA estimate of 27/38 mpg City/Highway (31 mpg Combined) with manual shift, or 27/37 mpg with automatic. The Honda Fit earned a Combined estimate of 36 mpg. An Active Eco button, optional on LX but standard on others, can soften throttle response. With an automatic transmission, it can alter shift timing as well.