2016 Kia Rio Walk Around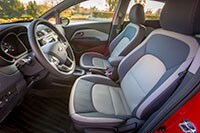 By employing clean, almost European body lines, Kia stylists working on the Rio sedan avoided the tall-trunk appearance of some subcompact sedans. Still, the five-door hatchback has a more coherent look, resulting in a higher level of vitality than the four-door sedan. In comparison, the sedan doesn't seem quite proportional, and looks slightly tall. Even so, the Kia Rio sedan profile appears more successful than some other subcompact sedans, including the Ford Fiesta.
More than the typical subcompact, the Rio's contrasting grille, coupled with swept-back headlights and a neatly rounded rear end, suggest the lines of a classic hot-hatch rather than an econocar. Angular bodyside creases yield quite a rakish visual persona for a budget-priced car.
Interior
Because the Rio is comparatively small, occupants are more likely to feel cramped. Interior space falls short of several rivals, including the Honda Fit and Nissan Versa Note. A sloping roofline doesn't help.
On the other hand, the Rio benefits from a well-coordinated, carefully appointed interior that imparts a premium, almost upscale aura. Comfortable front seats have relatively long cushions, as well as helpful fore/aft seat travel. Seats in the sporty SX have more bolstering than other trims, but are still on the mild side.
Backseat occupants will feel more snug than in a Fit or Versa. When front seats are pushed all the way rearward, there's little space for passenger knees or feet. Headroom also is scant.
Honda's Fit leads the subcompact pack in cargo versatility, but the Rio hatchback isn't so far behind.
Adding the optional rearview camera would be prudent, because the five-door Rio suffers from some serious blind spots.