2016 Kia Sedona Driving Impressions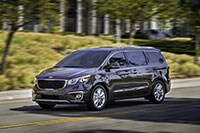 On the road, Sedona meets the usual minivan performance standards. Power is delivered smoothly, if at a moderate level, though it's wholly adequate if lightly loaded.
Our impression was that the Sedona feels much like one of Chrysler's minivans. Even with available 19-inch wheels, ride quality scores as excellent, though it can get bouncy over certain bumps.
Handling is essentially ordinary, but solid and secure. Virtually no wander is evident during Interstate driving, where the engine emits a pleasing sound. If pushed hard through a corner, the tires squeal, signaling a regression to minivan behavior.
Sedona's weight keeps fuel economy down. Base models are estimated at 18/24 mpg City/Highway, or 20 mpg Combined. The SX is rated at 18/25 mpg, but with its electric power steering, the SXL drops to 17/22 mpg.