2016 Kia Sedona Summary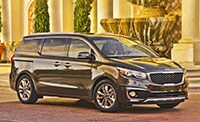 Considering practical merits, the Kia Sedona matches the Honda Odyssey and Toyota Sienna, and it's bigger than a Nissan Quest or Mazda 5. Flexibility falls short of the familiar Chrysler/Dodge minivans, with their handy stow-away second-row seats. Asked to choose, we'd lean toward the midgrade Sedona EX as best value, though many buyers will be satisfied with a sensible, less-costly model.
Driving impressions by Kirk Bell, The Car Connection. James M. Flammang contributed to this report.