2016 Kia Sedona Walk Around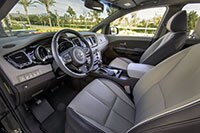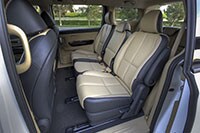 The Kia Sedona is more about function, less about taking risks with styling. Still, the minivan looks quite good, imparting a hint of class that suggests it's capable of performing more than humdrum daily duties.
Only a glance is needed to affirm that you're looking at a minivan, though, despite Kia's claim that Sedona is actually a multi-purpose vehicle. Sitting between swept-back headlights, a more upright version of Kia's familiar grille fits neatly into the front end. Some of Sedona's heft is obscured by an upsweep in the shoulder line. An available smart tailgate opens when the keyfob is detected.
Interior
Inside, the Sedona shines, with a cabin that qualifies as charming. Laid out horizontally, the instrument panel has a two-tone appearance and glossy piano-black trim. Soft-touch surfaces appear on the upper dashboard and doors. High-quality materials are evident, and fine detail work ranks with Kia's top sedans.
Front seats feel rather soothing, ready to provide comfort during a lengthy journey. All told, Sedona interiors stand significantly apart from the customary minivan, though base models get spill-proof cloth upholstery that's more drab.
Kia advises that the Sedona is built with abundant high-strength steel, and layers of sound-deadening materials keep the cabin blissfully quiet. Overall, Sedona has a feeling of substance that's lacking in Chrysler's popular minivans.
The third row is small, fit only for youngsters, whereas an Odyssey or Sienna third row can accept adults, at least of shorter stature. Headroom is restricted, and entry space is narrow.
All infotainment functions relate to the driver's smartphone. Sedona is the first Kia model to offer Geo-fencing, Speed Alert, Curfew Alert, and Driving Scope, to keep track of teen drivers.