2016 Kia Soul Driving Impressions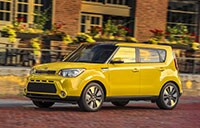 The Soul is easy to drive in every way. It features three driving modes, in a system called Flex-Steer, although we can't say we felt much difference between Comfort, Normal, and Sport. Its handling is about average. It corners well for a tall car, and the ride is smooth and comfortable while being taut and secure. There's a solid sense of center at the steering wheel, and good weight in the turns, off-center.
In some respects the Soul feels almost athletic, although it's hardly a performance prince; if you want that, you might look toward the Nissan Juke, not to mention other more expensive cars like some models of Volkswagen, the Hyundai Veloster, and others, even a tricked-out Kia Rio. The Soul is more of a commuter car than a backroads bomber.
Even if you don't demand much in the way of acceleration, you might find the 1.6-liter too soft. Or you might not, if you stick to the manual transmission and don't mind working it, but do mind spending money.
The 2.0-liter engine, with 164 horsepower and 151 pound-feet of torque, brings decent acceleration, good enough to be perky around town and marginal out on the highway. The automatic transmission responds quickly under impatient acceleration. In fact it's too busy between fifth and sixth gear out on the highway, an annoyance, although there's a manual gate that enables the driver to lock it in gear until the engine hits redline.
The ride isn't prone to lean or head-toss, as you might imagine from a car with such a short wheelbase and tall roof. The chassis was significantly stiffened with this generation, enabling the engineers to work with the suspension, namely creating more travel. They brought out their twin-path dampers, which give better control and feel when the Soul is driven hard into corners. These shocks also deliver better isolation over bumps.
Naturally the Soul EV is smoother and quieter, since it has no engine. But it's also quick, and we found the range estimates accurate. Kia says it should get 92 highway miles or 120 city miles, and we consistently got more than 100 miles in combined test drives in warm weather. Every mile counts when it comes to range anxiety.