2016 Kia Soul Summary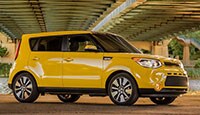 We have recommended the 2.0-liter engine with the automatic transmission, but the 1.6-liter with the 6-speed manual, at less than $16k, is a ton of value. Everything is there except abundant power, including looks that sometimes turn heads, an interior that's upscale for the price, comfortable ride, decent handling, and last but not least, excellent room in the rear for both passengers and cargo. And if you want cool, go for the six red throbbing speakers.
Driving impressions by The Car Connection staff. Sam Moses contributed to this report.