2016 Land Rover Discovery Sport Driving Impressions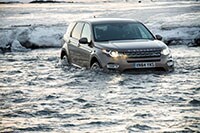 Discovery Sport drives much like a car-based crossover, with good road manners and performance, yet it has Land Rover's above-average ability once the pavement ends. Consider what's underneath the bodywork: a long-wheelbase, heavily revised and updated Range Rover Evoque.
Discovery Sport uses the Evoque's Ford-sourced, 2-liter turbocharged four-cylinder engine and ZF nine-speed automatic transmission. With four overdrive gears the engine's good low-end torque, peaking at 251 pound-feet, is a more important number than the 240 horsepower, allowing it to run in higher gears at lower rpm more often for better fuel economy. It is fairly smooth when pushed and Land Rover claims 0-60 mph in 7.8 seconds; tires are designed for a top speed of 124 mph.
The transmission can be shifted manually with steering-wheel paddles. It starts off in second gear when appropriate for better fuel economy, and can skip multiple gears when downshifting because there is only very modest acceleration in eighth or ninth gear.
Terrain Response controls the engine, transmission, all-wheel drive system, steering effort, and electronic chassis aids for five modes: the default daily-use Normal, Grass/Gravel/Snow, Mud/Ruts, Sand, and Dynamic for more spirited on-road response. Terrain Response makes Discovery Sport as easy to drive on the trail as on the highway and accounts for much of its off-road ability. The rest stems from good clearances, ability to stay dry and ease of seeing out.
Suspension is independent all-around for good ride quality and agility, also aided by keeping mass to about 4000 pounds for the base model. Brakes offer a firm pedal that's easy to modulate, a gentle touch for working a muddy two-track and good feel and performance on the highway.
In addition to stability control, the Discovery Sport also has trailer sway control and tow assist. Optional driver aids include parking assistant, lane departure warning, speed limit/passing restrictions on nav screen and autonomous emergency braking to avoid, or mitigate the effects of, a collision at speeds from 3-50 mph.