2016 Land Rover Discovery Sport Walk Around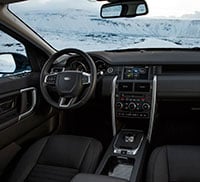 Just more 15 feet long, Discovery Sport is a convenient daily-driver size and a few inches longer than the original box-shape Discovery. However, beyond the cantilevered roof of previous LR models it shares more styling cues with Range Rovers, including front running lights, side gills and a rounded tail similar to that of the Range Rover Sport and wheel-arch openings virtually identical to those on the Evoque.
Forward rake and roof drop aren't as pronounced as an Evoque and side window glass is generous. Choices include a contrast-color roof, big and/or black wheels and black trim. The look is modern aero crossover rather than squarely functional utility, as evidenced in its ability to approach a steeper incline in reverse than going forward.
Interior
Discovery Sport seats five adults, with a kid-size third row optional for seven or more accurately referred to as 5+2. The driving position is more car-like than previous Land Rovers and just as comfortable and supportive. The second row slides fore and aft more than six inches for more room, the seatbacks recline for more comfort, and the seats are perched higher for better visibility for back-seat passengers. The second row is split and it folds almost flat to expand cargo capacity from 33 to 67 cubic feet. When fitted, the 50/50-split third row is higher yet for theater seating, and by dimension and cushioning built for children.
The cabin is businesslike and functional, with straightedge styling, legible white-on-black soft-touch controls and Jaguar climate controls. The forward console houses the electronic parking brake and pop-up shifter. Console flexibility includes rolltop covers, removable cupholders to fit a 2-liter bottle and storage room suitable for concealing a camera or small purse.
Features include face-level air vents and a USB charging port for all seat rows, eight-inch gesture touchscreen, and potentially six USB ports, four 12V DC power points, 3D navigation with on and off-road modes, and Wi-Fi hotspot.