2016 Land Rover LR4 Driving Impressions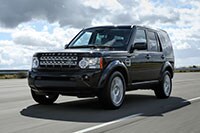 Because the LR4 is most definitely no crossover, expect some compromises when rolling down regular pavements. This SUV is heavy and more trucklike than front-wheel-drive-based crossovers. It's one of the tallest SUVs around and the driver sits high.
Power is ample for ordinary driving, and the ride is pleasantly comfortable. Those benefits need to be measured against handling that can feel almost clumsy at times. Competent cornering results from the fully independent suspension, coupled with height-adjustable air springs, but body roll is noticeable.
On the road, the LR4 is graceful in its unique way, but it isn't nimble and leans in corners, though it doesn't feel prone to tipping. Steering is vague, with sufficient numbness enough to restrain temptation toward too-spirited driving. Expect some nosedive when braking hard, although pedal feel is actually quite good. Ample insulation keeps both wind noise and road noise at bay.
Not only does the ZF transmission shift smoothly, it downshifts promptly when needed. A dial on the central console controls the transmission, while paddles at the steering wheel let the driver changes gear manually. When turning off the ignition, that shift dial recedes into the console.