2016 Land Rover LR4 Walk Around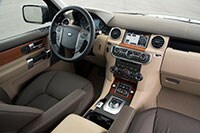 In today's world of softly curvaceous crossovers, the LR4 stands defiantly upright, though nicely proportioned. Easily recognizable as a Land Rover, it's the most traditionally designed member of the brand's lineup. The LR4 built upon the upright profiles of the 1990s, evolving from the Discovery model. With its sharp corners, upright sides, and an unabashedly boxy look, the LR4 could be seen as a relic from the past.
Some describe the LR4 as safari chic, blending the harsh-terrain attributes of the Land Rovers that trekked through jungle and desert half a century ago with a modern array of luxury amenities. Aesthetically speaking, the LR4 stands well apart from nearly all its competitors.
Interior
Even more than the exterior, the LR4's firmly upright, utilitarian interior tends to draw either praise or disdain. Though it appears traditional in purpose, the cabin shows no shortage of plush, contemporary detailing.
Carefully balancing form against function, the interior features not only soft-touch materials, but rich wood veneer trim and a lavish leather-trimmed dashboard. On the practical side is a clean, sensible control layout.
Seating is upright yet comfortable in both the first and second rows, even for taller folks, whereas the third row (if installed) is strictly suitable for small children. For some occupants, second-row seats may be short on knee space or legroom.
Well-shaped front buckets with adjustable armrests, provide good support. Sitting erect, the driver gets an excellent driving position and a fine view of the road ahead. Highly visible, pronounced hood corners are a Land Rover hallmark, as well as a practical benefit during demanding off-road journeys.
Second- and third-row seats can fold completely flat, opening up 90 cubic feet of space. Basically, the third row flips up from the load floor, suffering a significant shortage of headroom.