2016 Land Rover Range Rover Sport Walk Around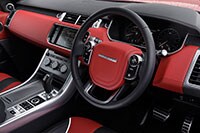 The Range Rover Sport shares some the Range Rover's overall shape, but brings some lines from the stylish smaller Evoque. There's the slim grille and winged headlamps, but the Sport more noticeably copies the dramatic pinched roofline of the Evoque.
The Sport has clean lines and a confident stance, showing a sense of dual-sport purpose, and originality. It's got a bold face, with smooth faired headlamps and a grille that looks chunky in chrome but slim in black, like on the Evoque. The black pillars rise from tall sides and support a dynamically sloping roof. Swollen wheel arches, and vents on the fenders and hood add edginess, along with the short and chopped rear end.
The high-performance SVR model looks more aggressive all around, with big air intakes, massive wheels and low-profile tires.
Interior
Inside, the Sport is more like the cabin of the Range Rover though distinctively Sport, with expansive leather and aluminum, tight seams and clean switchgear. There are only a few switches and dials, as most of the functions are controlled by a big touchscreen, same as the full-size Range Rover. Except for that touchscreen, nearly every square inch in the cabin is covered in leather or wood. The instrument panel is so beautiful that it makes the touchscreen look dated.
The Sport has four bucket seats (the seats on the SVR are heavily bolstered). Technically, it seats five, although the rear center seat is for occasional use only, and the rear seats are not as supportive as those on the Range Rover. Seating for seven is available, with an optional third row seat for two very small people. If you've got seven people squeezed in a Sport, only four of them should be adults. We recommend getting a five-seat Sport. If you need seating for seven, check out the Discovery or elsewhere.
Sirius satellite and HD Radio are standard equipment, while Land Rover's new InControl apps are available as a stand-alone option or packaged with the upgraded sound system.
The Driver Assistance Package includes traffic sign recognition, lane-departure warning, automatic parallel and perpendicular parking, parking exit assist, and parking sensors all around the vehicle. The Climate Comfort and Visibility Packages have blind-spot monitoring with closing vehicle sensing and reverse traffic detection.