2016 Land Rover Range Rover Sport Introduction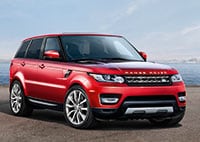 The Range Rover Sport packs the full-size Range Rover's powertrains into a shorter package. The Sport is quicker, nimbler, and less expensive than the larger Range Rover. The 2016 Range Rover Sport lineup includes a new diesel version, a new HST model powered by a Jaguar F-Type engine, and a new high-performance SVR.
The Range Rover Sport was first introduced by Land Rover 10 years ago to complement the full-size Range Rover. For 2014, the Sport was completely redesigned with a body made from glued and riveted aluminum, making it 800 pounds lighter and therefore more nimble, although it still tips the scales at 5000 pounds or so.
The 2016 Range Rover Sport offers five powertrain choices, all with four-wheel drive and an 8-speed automatic transmission.
A 3.0-liter supercharged V6 making 340 horsepower comes standard, with the sweet paddle-shifting 8-speed built by ZF. The 90-degree V configuration gives the V6 a nice snarl while accelerating to 60 miles per hour in seven seconds.
New for 2016 is a turbodiesel V6 that accelerates just as quickly with only 254 horsepower, thanks to 440 pound-feet of torque. It's very quiet, while bringing EPA-rated fuel mileage of 25 mpg Combined. That's 6 mpg better than the supercharged V6. It uses a system to clean nitrogen oxide emissions from the exhaust.
Also new for 2016 is the Range Rover Sport HST with 40 more horsepower from the base supercharged six; it's the same powerplant as in the Jaguar F-Type. The HST also gets firmer dampers, bigger brakes, a Torsen center differential, and a dynamic setting to sharpen the suspension, steering, and throttle response. It's got exclusive trim, with dark headlamps and taillamps, dark roof and fender vents, a spoiler, and 21-inch spoked wheels with red calipers.
Now the killer motors, the supercharged V8s, starting with the kinder gentler one that only makes 510 horsepower while tearing to 60 miles per hour in five seconds. It gets a Combined 16 miles per gallon. The SVR version pumps that up to a humongous 550 horsepower and 502 foot-pounds of torque. Count on it to be faster and thirstier.
2016 Range Rover Sport models come with more standard equipment than last year's models, include remote smartphone connectivity for the InControl system and a hands-free tailgate.