2016 Lexus CT 200h Driving Impressions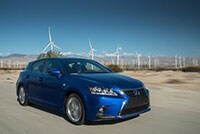 Adapting hybrid hardware from the larger Toyota Prius, the CT 200h stirs an element of driving excitement into the hatchback's miserly fuel economy. Lexus engineers modified the powertrain to provide a more satisfying, sporty road experience.
Driven gently, in Normal mode, the CT feels neither sporty nor energetic. In Sport mode, it feels more animated; but that extra energy is accompanied by startling engine roar. Even when pushing lightly on the accelerator pedal, Sport mode provides full electric assist. As a result, the CT 200h feels friskier than its 10-second 0-60 mpg acceleration time might suggest.
If you can ignore the engine sound at higher speeds, it's surprisingly fun to drive. Not only does Sport mode alter and improve powertrain behavior, it transforms the basic power gauge into a red-encircled tachometer for the gasoline engine. At lower speeds, with a light load, the electric motor can operate the CT 200h independently of the gas engine, at speeds up to 25 mph.
European-style chassis tuning, with a firm suspension, means CT 200h roadholding trounces any Prius model. Electric power steering is on the numb side, though the CT is agile and responsive, able to take curves crisply. Sport mode imparts a bit more road feel. Either way, passengers will notice little pavement harshness.
Except for engine noise, along with periodic steady-speed droning, the CT 200h is quiet on the road. Virtually no wind or road sounds enter the cabin. A continuously variable transmission sends power to the front wheels, with no paddle shifters to simulate the gears in a conventional transmission.
Even shorter drivers get a good view toward the front. Despite a shallow back window and thick roof pillars, rearview visibility is good, too.
Fuel economy is hard to beat, EPA-rated at 43/40 mpg City/Highway.